Regular price
Sale price
Rs. 599.00
Unit price
per
Sale
Sold out
Product Description
Greasy hair? Let's change that! With BBLUNT Back to Life Dry Shampoo - Classic, you can go from oily & flat second-day hair to bouncy and fresh hair in minutes. Formulated with Rice Starch and Charcoal, the dry shampoo effortlessly absorbs excess oil and grime while the shine tonic adds the much-needed smoothness and glossy sheen to your locks. The result? Voluminous hair for that perfect hair flip in an instant. Crafted especially for Indian hair, the dry shampoo gets absorbed in seconds leaving no residue. The best part is that the formulation is Benzene-free, making it safer for your health & tresses.
Reasons to Love

 
Rice Starch :
It reduces greasiness and makes hair appear smoother.
Charcoal :
It absorbs excess oil and grime, leaving hair refreshed.
Shine Tonic :
It gives hair spectacular shine and smoothness instantly.
How to Use
Step 1:
Shake the can & hold it upright, six inches away from the hair.
Step 2:
Spray it evenly close to the roots & leave it on for two minutes.
Step 3:
Massage & brush thoroughly.
Suitable For
Anyone looking for an easy fix to greasy hair & extra volume can use this dry shampoo.
This shampoo is specially created for all types of Indian hair, textures, and lengths.
Ingredients List
Propellant, Ethanol (95% V/V), Oryza Sativa Starch (Rice Starch), Caprylic / Capric Triglyceride, Stearalkonium Hectorite, Propylene Carbonate, Perfume, Isopropyl Alcohol, Cyclopentasiloxane, Cetrimonium Chloride, Cetyl Trimethyl Ammonium Chloride, Charcoal Powder, Hydrolyzed Silk Protein (Shine Tonic).
FAQ
Can I Use It Everyday?
No, we don't recommend using the Back to Life Dry Shampoo in Classic everyday. This is not a replacement for your regular shampoo. Whenever you need some extra volume or need to refresh your greasy hair, spray it on!
Will This Work for Oily Scalp?
Absolutely! The BBLUNT Back to Life Dry Shampoo - Classic is ideal for an oily scalp as it minimizes grease and absorbs excess oil from your roots, leaving your hair fresh and voluminous.
Is This Benzene-Free?
Yes, BBLUNT Back to Life Dry Shampoo - Classic is free of Benzene, making it absolutely safe for you and your tresses.
Share
View full details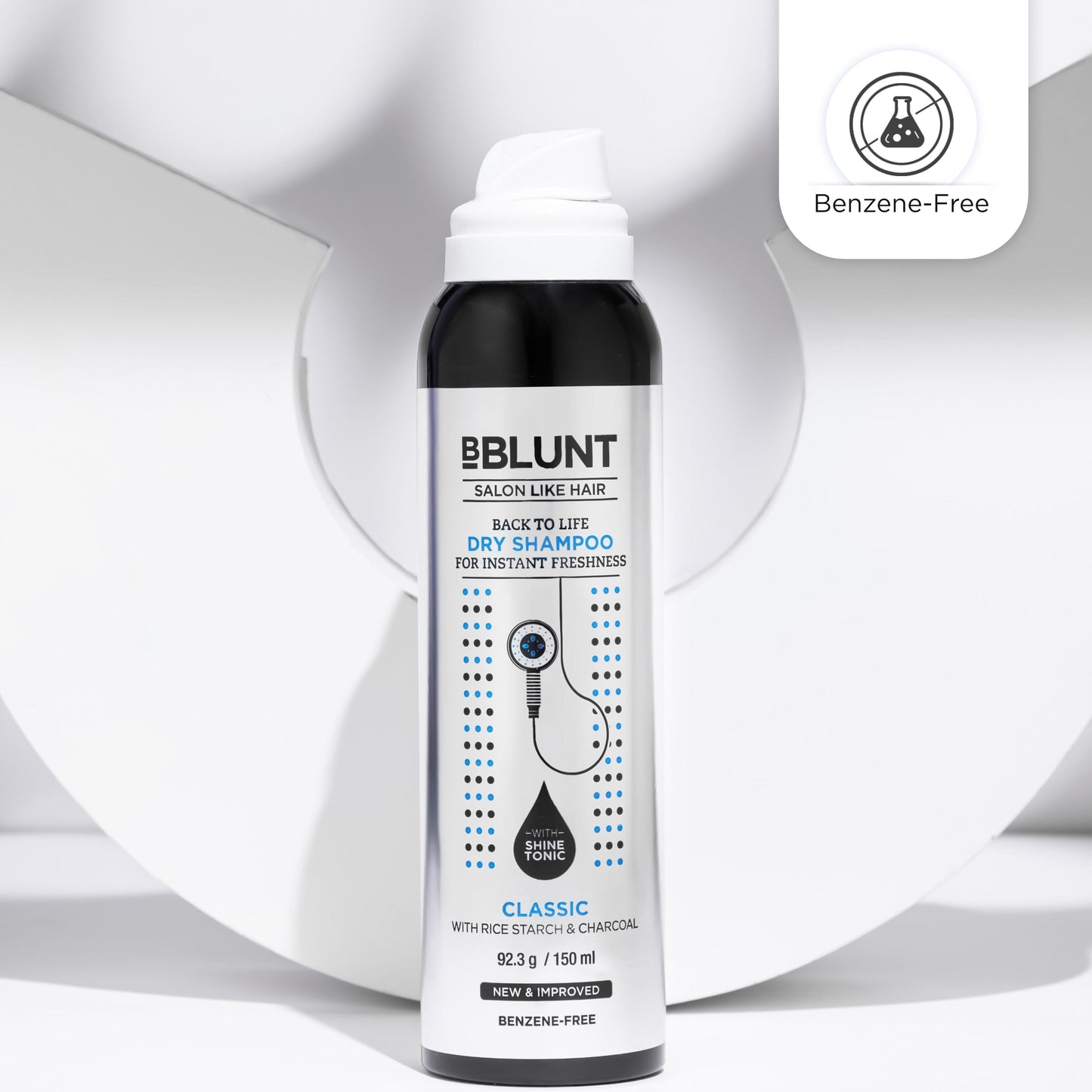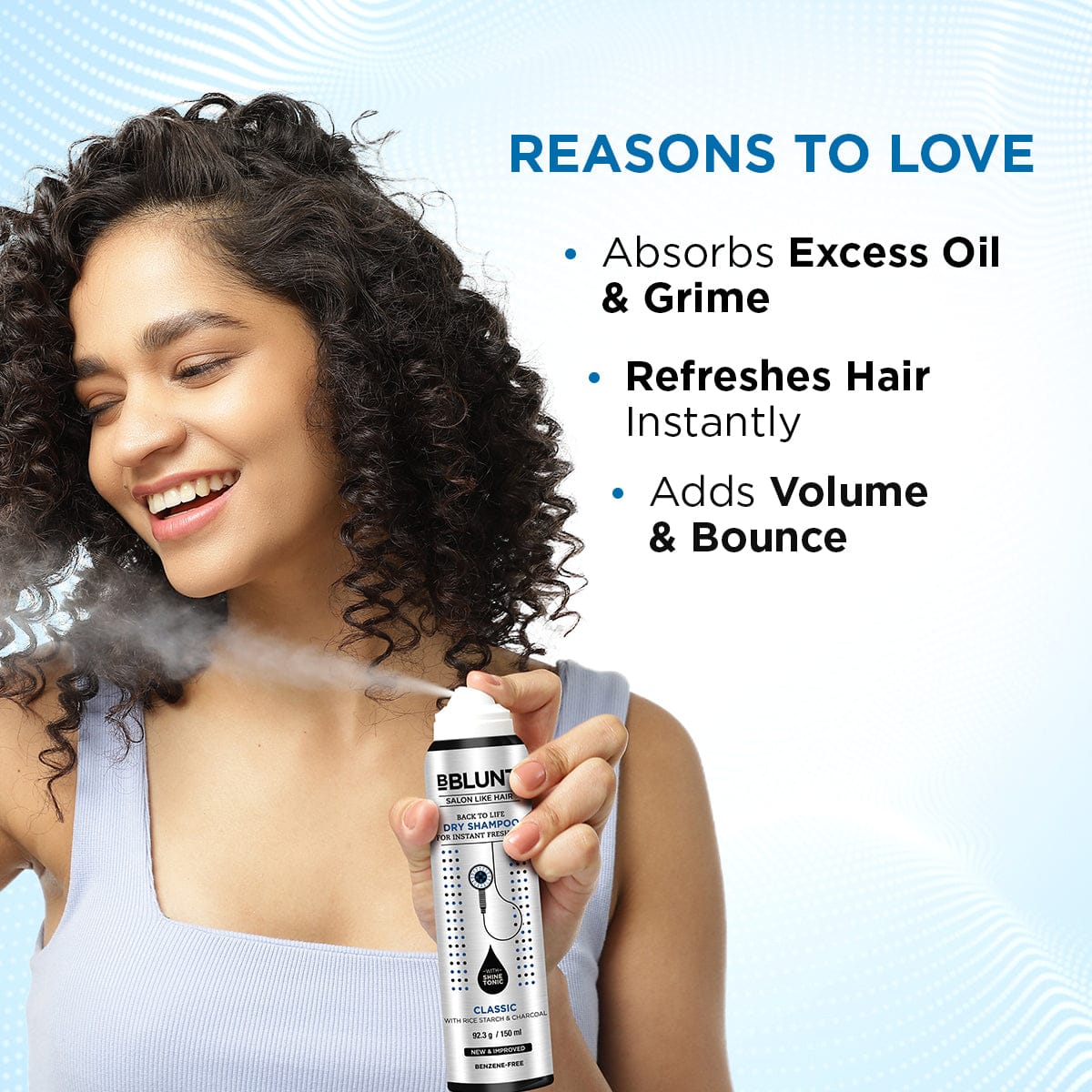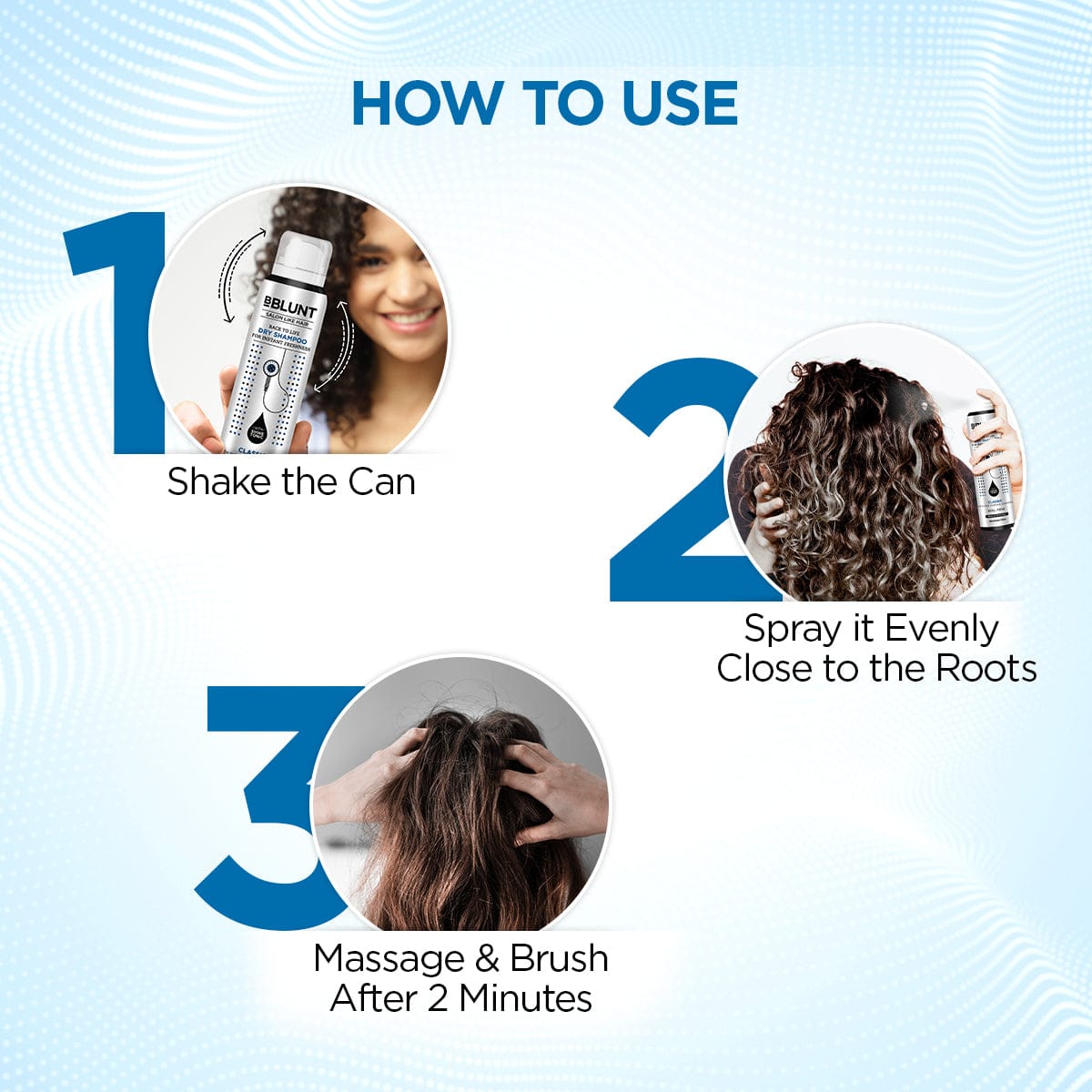 I am absolutely in love with the Back to Life Dry Shampoo by BBlunt! It's so easy to use and leaves my hair feeling fresh and clean.
Back to Life Dry Shampoo by BBlunt is a must-have for anyone with oily hair. It's affordable and works wonders. Best to save time.
This dry shampoo doesn't dry out my hair like some other brands do. It leaves my hair feeling soft and nourished.
I love how it adds texture and grip to my hair. It makes it easier to style and gives me a more polished look. I am sticking to it for a long time now!
Back to Life Dry Shampoo by BBlunt has been a lifesaver for me on busy mornings. It saves me time and gives me great-looking hair.